Donations:
You can help the 'Hobart Not Highrise' campaign by making a donation, small or large.
We need funds to cover the cost of leaflet-printing & distribution, and other advertising. Also, we sometimes need legal advice.
We offer 3 ways to donate:

Direct to HnH bank account - Bank: Commonwelath, BSB 067-000, Account 1093 0452, Name Hobart Not Highrise Inc.

Call HnH treasurer Peter Black 0419-275-334

Trybooking - click 'Here'
Many thanks.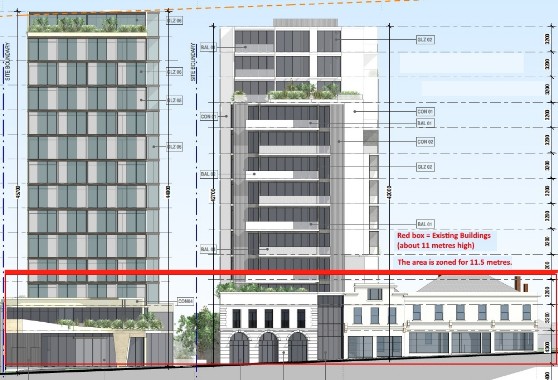 Proposed Fragrance high-rise towers on Elizabeth Street
The red line shows the height of the existing buildings
This application is currently at the Appeals Tribunal (see Mercury 2nd June 2019 article below)